Home health and hospice agencies spent roughly 3 percent of revenue in the first quarter of 2022 on sales and marketing, according to national data from The Financial Monitor, SimiTree's industry-leading data analytics and benchmarking tool.
Smart agencies made effective use of that expenditure by doing two things, SimiTree Data Analytics Director Christine Lang said.
"First, they ensured the time spent on sales and marketing was invested in the right place," Lang said. "Second, they were thoughtful about the message presented to each referral source, matching it to the current practices and needs of the source."
Market data informs and boosts an agency's sales and marketing in several ways, Lang said, leading to more targeted approach for greater success.
As one example, Lang said understanding a hospital's current rates of discharging patients to post-acute care can help an agency sharpen its messaging.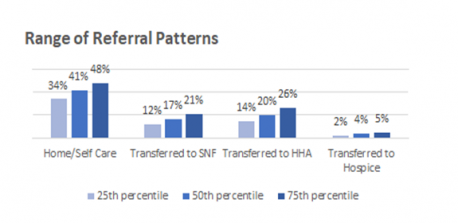 "If you are approaching a conversation with a hospital that currently discharges a large number of patients home with no post-acute care, or sends a high volume of patients to skilled nursing, your goal may be to help them think about whether those practices are best serving the needs of their patients," Lang said. "Are they underutilizing home health and hospice services?"
On the flip side, a hospital already referring many of its patients to home health or hospice likely already understands the value of home-based care. In that case, an agency's message needs to focus on how it stands out from the competition, with better outcomes, higher patient satisfaction or specialty care programs.
"In the latter situation, it's also really important to know precisely who your competition is for patients discharged from that particular hospital, so you know how to set yourself apart and bring data to demonstrate the difference," Lang said.
Finding the right data
It's easy to access a specific hospital's referral patterns, competitor data and other highly beneficial market intelligence with SimiTree's Market Analysis Platform (MAP).
MAP helps clients track patient movement between competitors and referral sources, determine high value referral sources and demonstrate to potential partners the value the agency brings to the relationship. It also helps agencies determine the viability of new lines of service or expansions into a new community.
MAP is the newest of SimiTree's renowned data analytics products, praised by clients for ease of use and customizable functionality. It complements the SimiTree Financial Monitor, the industry leader in benchmarking and financial reports.
Schedule a free MAP demonstration
To schedule a free demonstration of SimiTree's MAP, call 800.949.0388 or reach out to us via the contact form below.
Get more information about MAP.
Subscribe to The Financial Monitor
for real-time data and information
The SimiTree Financial Monitor is an in-depth proprietary financial report SimiTree delivers to subscribers in quarterly increments to enable industry comparisons, benchmarking, and trend identification for stronger and more informed decision-making.
The report reflects data from both national and SimiTree client reports.